See the
NEWS
Section for upcoming exhibitions.
Here are some of the most recent of Mary's works. These have all been produced during the various lockdowns.
Mary is most well known for her paintings of children but since retiring from running a gallery she has had the time to experiment and to move away from this subject. However, if the mood takes her, she does go back to producing a painting that hopefully projects the feeling of fun and movement in children on the beach.
Working Together
and
I'm the King of the Castle
are recent results in oil paint.
key [16787621] doesn't exist
Late Autumn Afternoon, Southwold
is an example of her recent experimental work using a palette knife. The idea was to capture the movement of the clouds rushing by and the silvery light on the water.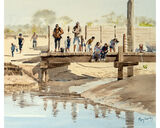 Walberswick Crabbing Bridge
depicts a scene that holds a special place in the hearts of many who have visited this unique corner of Suffolk. For this work Mary has used watercolour to capture the popular pastime for children and adults alike. This location is one that Mary has been asked to paint many times.
Whilst we have been walking a neighbour's dog along the River Blyth, Mary has been moved to try and capture the colours of the winter reeds and the estuary, in an abstract fashion, back in her studio. Blythburgh Reeds
is an experiment for her in terms of style.
Mary found some old sketches made during her life drawing class with The Southwold Art Circle and decided to use three of them as a reference and to work up in oils. See
Life Studies
for further information.
These paintings are all available directly from Mary. For more details either click on the title above or use this link
ORIGINALS
to see all of Mary's work that is currently available.